Hideaways Presents
Rewind: Artful Dodger plus Guest DJs
with
Artful Dodger
,
DJ B-STYLE
,
DJ RNS
,
MC R DUBZ
,
Local Life Discoteque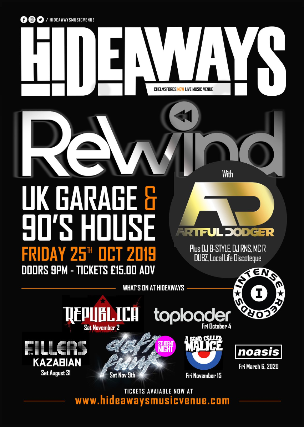 £15 ADV
Artful Dodger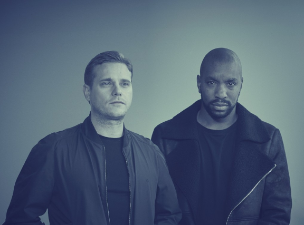 DJ B-STYLE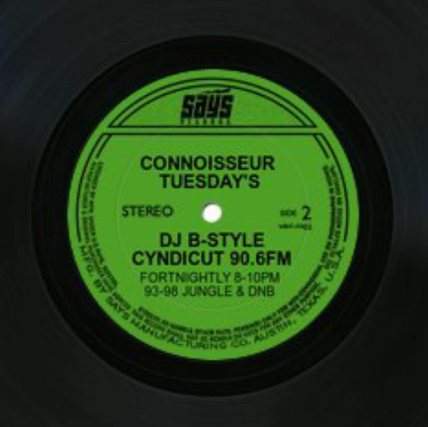 Old skool jungle & dnb, old skool hardcore, club classics, house & garage dj!!

Been into the rave scene since listening to my older sisters tapes in 1991.
Followed it as it moved from hardcore to jungle through my school years.
In 1996 I started buying tunes and learning to mix round my friends house, i got the bug and started buying records every week. Before long I had my own set of sound labs and for my 18th bday finally got a pair of technics.
Me and a friend started playing about with house garage and got a small residency in the summer of 97, by the end of 1998 i'd completely made the switch to garage which was breaking through everywhere. For the next few years I was playing out around essex & london and started pirate radio in 2003.
I've played on stations such as Cyndicut, renegade, mystery, obsession, rise 1, remaniss, obsession, illusion, demand, lush, frequency, 808 & rough tempo.
Played in Zeus, Evoke, Reds, Ctzn, The jam, Hollywoods, Sky rooms, Laristo's, Saracens, Sams, Fling fest, Basement plus many more
DJ RNS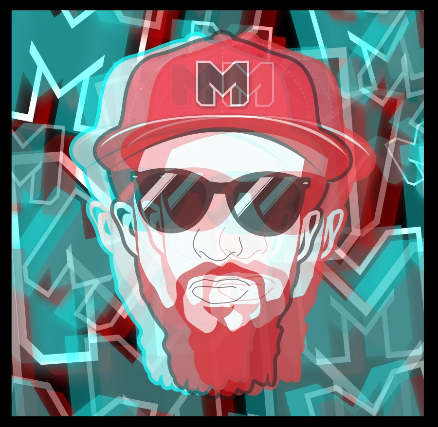 There is a stark difference between a hobby and a passion. A hobby is an activity a person does to relax in their spare time. A passion, however, is an unyielding desire embedded in a person impossible to ignore. They wake up pondering ways to perfect this passion. It remains on their minds all day. They go to sleep with it plaguing their mental.
For Manotti (aka Raymanotti da Vinci, or DJ RNS), founder of So Iregula Entertainment, music is anything but a hobby.
"You know when something is meant for you. It's so difficult to articulate," said the Virginia native and Virginia Commonwealth University (VCU) graduate. "It's a feeling that only people who are truly passionate about anything in life can understand. Music didn't only save my life. It is my life in a sense."
Following graduation, Manotti was recruited as an on-air DJ for Richmond's massively popular radio station, 106.5 The Beat of Clear Channel Communications and then later acquired his own live mixshow on XM Satellite Radio's RAW 66 channel with Leo G and Mz. Kitti. It was in 2004 when his first major break would arrive. He was pegged the opening act for Usher's Truth Tour which featured none other than Kanye West.
His ever-evolving brand is vital to Manotti's progression as an artist and entity in music as well. His projects - trademarked by his innovative mesh of remixes and mashups - have earned him acknowledgements and placements from outlets such as RVA Magazine,
MTV.com
, Ozone Magazine,
FKN-Famous.com
,
Datpiff.com
and a countless more. His list of corporate clients with whom he has stellar track records with include: XM Radio, Clear Channel, Def Jam Records, Winter Music Conference (2011), Vitamin Water, Downtown Locker Room (DTLR), UV Vodka, Crown Royal and AMP Energy to merely list a portion.
Jockeying such notoriety to his resume, Manotti has since gone on to work with and perform alongside heavyweights in the vein of Diddy (Puff Daddy), Talib Kweli, Ludacris, DJ Khaled, Rick Ross, Chris Brown, Steve Aoki, Designer Drugs, Midnight Conspiracy and more. With 15 years and counting as a professional DJ - having played at numerous events and venues throughout the East Coast - the desire for more continues to be a motivational factor.
The only job of a DJ is to inspire the audience he caters towards that evening; to craft an indelible memory that they will carry far into the future, if you will. Manotti has executed such a task from college campuses in Virginia to international audiences in Miami and beyond.
Yet, it is his unquenchable thirst to continue adding pieces to his legacy, making Manotti a true threat in both music production and deejaying. The truly great passions never perish. If anything, they allow us to stay young. Manotti is living proof.
MC R DUBZ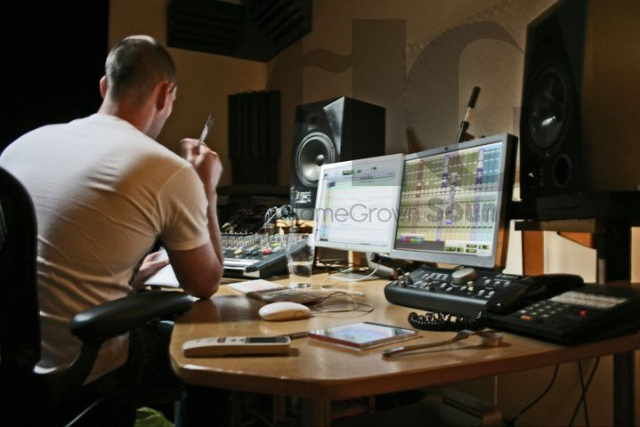 RDubz (AKA RDoubleE) is a DJ/Producer/MC from Chelmsford, Essex UK. Big Shouts to Bass Punch Records, Haunted Audio, LickTheWrap, Static Delight and all the original Renegade Family! Check this page for free downloads, mixes, events and updates.
Local Life Discoteque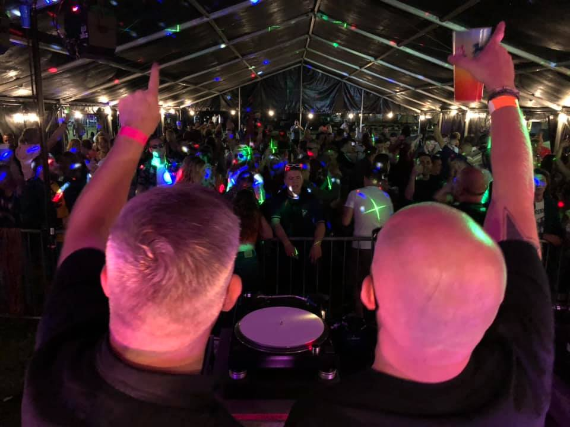 Celebrating the cream of local talent,Dj's & live acts,playing an eclectic alternative mix of Chunky Funky beats,Classic Floorfillers & Indie stompers