That 70's Music Show
with
Paper Lace
,
Mud II
,
The Original Jukebox Heroes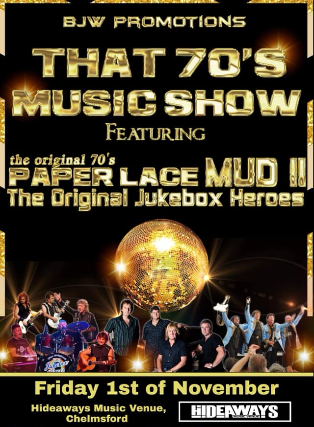 Standing £18.50 | Seated £22
Paper Lace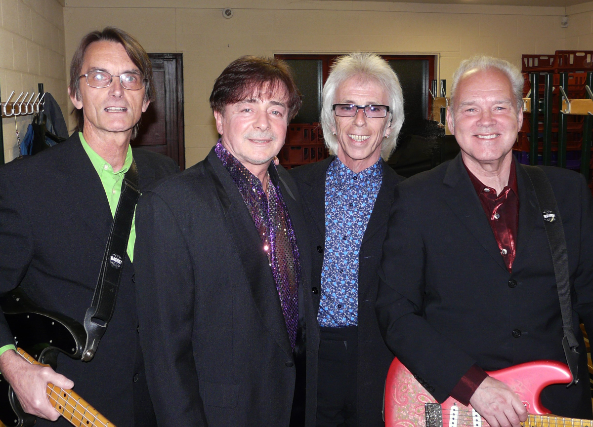 Paper Lace are a Nottingham-based
pop
group who rose to success in 1974 and during that year had their only three UK Top 40 hit singles. In the United States they are considered a one-hit wonder, having just a single chart hit in that country. There are currently two active bands featuring members from the hits period using the name Paper Lace or a direct derivation of it.
Mud II
Band featuring ex-members of Les Gray's Mud, keeping alive legendary hits like Tiger Feet, Dynamite, Cat Crept In, Oh Boy, Rocket, Lonely This Christmas and so on.
The Original Jukebox Heroes
Jeff Brown formed the band in 2005. The premise of the group was to construct a band of Original Glam Rock superstars and long-serving members from well known Glam Rock bands and deliver a show of Seventies classics with all the gusto and dedication that was present when the songs were originally released.
Aptly named, The Original Jukebox Heroes are a live action, select-a-disc spectacular that will catapult you back to the days of Glitter, Glam and Platform boots! The show is packed with an energetic cavalcade of toe-tapping Glam Rock classics and is a spectacular visual delight that leaves the audience screaming for more!
Jeff, Sweet's Singer and bass guitarist for 16 years is joined on stage by brothers in arms, Phil Hendriks, guitarist from Les McKeown's Bay city rollers, Steve Whalley who bravely filled Noddy Holder's shoes in Slade when he left the band, Pete Phipps, The original, drumming Powerhouse from The Glitter Band, Philip Wright who is a founding member of Paper Lace and plays drums and sings lead vocals and last but by no means least, on keyboards is Dave Major who has played with T-Rex since Mickey Finn re-formed the band as a tribute to Marc Bolan.
The Original Jukebox Heroes have been very successful in Russia and Europe and regularly appear at outdoor festivals in Belgium and Germany to a packed capacity and are always in demand! More recently, the band decided to give the UK a taste of what they've got and the last two years has seen them secure a string of theatre dates up and down the country and a slot wowing hardcore Glam Rock holidaymakers at a Seventies Gold Weekender event.
The Original Jukebox Heroes set is comprised of songs from each respective band member's careers and is performed with complete dedication and a desire to present the songs as authentically as possible. 100% live everytime!